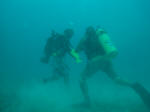 FAVOR BOLD AEROMARINE provides solutions for unique and challenging situations above or below the water, worldwide. We are a small company with a big reach via a network of U.S. Special Operations veterans who encompass a wide variety of skillsets and small business operations. When you require on-task, effective, and immediate "can do" results with short notice, FAVOR BOLD AEROMARINE is your best choice. Always on time, and always on mission!
Featured
"To me, the needs following the Haiti earthquake made sense of the past 20 years of my life in Special Operations, medicine, antiterrorism, adventure tourism, filmmaking, and outdoor skills and survival" says Jay Stanka, former Green Beret medic and Managing Editor of HUMANI Magazine.

HUMANI Magazine – A group of Special Forces "Green Beret" veterans, top doctors and a former Ambassador have partnered to launch a revolutionary magazine. The magazine is a platform based on a global human network that helps "train, equip and deploy" licensed health care providers to safely and effectively serve vulnerable populations in problematic and high risk areas. HUMANI develops "mission leaders" and teams capable of planning, organizing, financing, and conducting medical missions in the U.S. and developing world. HUMANI also raises awareness and funding for medically aligned nongovernmental organizations (NGOs), essentially providing no-cost fundraising, marketing and advertising services for worthy organizations in support of their own missions.
Mission & Services

Our mission is to provide our clients with a solid response to their requirements; on-time, and on task. We provide a variety of specialized services, some of which are rarely, if ever, available elsewhere. Our work ethic and methodologies were learned and finely-honed during decades of military service. Please explore our website to learn more about the unique capabilities of Favor Bold AeroMarine. learn more
R/V Daring Game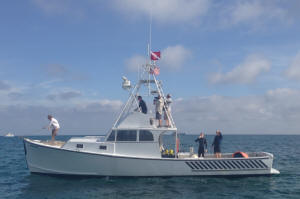 Daring Game is one of our custom built workboats. She fulfills a variety of missions in support of surface and subsurface maritime operations. Daily/Weekly Charter learn more
---
Recent News
Newly established MARINE STUDIO in The Bahamas. Favor Bold AeroMarine announces the establishment of a Marine Studio to support Film Production in The Bahamas.
FAVOR BOLD AEROMARINE recently completed two film production contracts; one in The Bahamas for Travel Channel's Lost Survivors series, and the other in Fort Lauderdale for a yet to be named television series. In both contracts, FAVOR BOLD AEROMARINE was named as Marine Coordinator for all topside and underwater production activities. learn more